Artificial Grass for Trade
Logic Services
Logic Services is the trade department of Lawn Logic.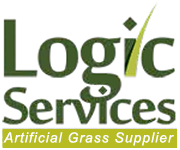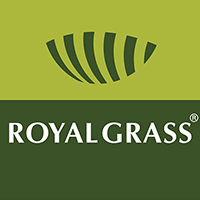 Buy Artificial Grass at Trade Price
We supply artificial grass for trade customers throughout the UK. All our products are manufactured in Holland by Royal Grass. Established in 2003, they are the leading brand in premium artificial grass. We take immense pride in being an Royal Grass Service Partner.
Logic Services
Logic Services can assist you with everything from shortlisting, sampling and quotation to the installation process for your small or large scale projects. Whether you are an architect, landscaper, builder merchant, floor paver, gardener, general builder, fencing company or even a professional body, we offer special trade rates for large-scale purchases. We will exceed your expectations every time.
With our competitive prices and efficient delivery service, we build trust and loyalty with all our customers and go to great lengths to ensure you are never disappointed.
For more information, call us on 01256 242425 or request a call back below.

The following services are available to all trade customers:
Next Day Delivery
Order today, receive tomorrow. No matter how big or small your artificial grass order is, we promise to deliver within a day. This is possible as we are always stocked up with all items in our product line. If you need bespoke cut sizes or bulk rolls for large projects, we are ready for your order.
Project Management
Do you need to outsource the installation of artificial grass? If so, we can fully manage the project for you with our expert installation team. We can also provide extra services such as landscaping, gardening or planting. Simply discuss your plans with us and let us assist you.
Trade Cutting Service
Do you want to buy a full roll of artificial grass? This is 20 metres long by 4 metres wide (80 square metres). Would you prefer to buy a smaller size? Many artificial grass companies will only sell full rolls at trade prices. However, Lawn Logic is committed to meeting the requirements of our trade customers, big or small. With our cutting service, you can order any size at competitive rates. Discounts are also available for repeat trade customers depending on the volume of your monthly orders.
Sample Boxes
Let your customers see and feel the quality of Royal Grass with a product sample. Many artificial lawn companies will sell cheap products but Royal Grass is the most realistic and the most durable. In our experience, once your clients get a sample of Royal Grass in their hands, they will want it in their garden! Lawn Logic's trade team has created the perfect luxurious sample box for you to present to your customers, to leave them with an amazing and memorable impression.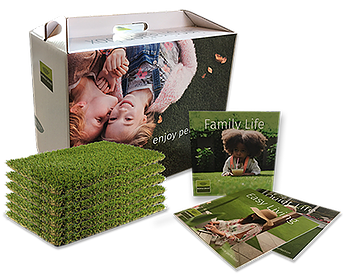 Enjoy perfection with Royal Grass